The Home welcomes sponsorships for our residents and their families.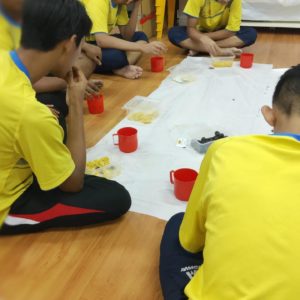 Meals
Although MWH provides daily meals for all its residents, we look forward to sponsorship of meals, especially during weekends and school holidays.
• Breakfast, Lunch, Tea-break or Dinner
If you wish to sponsor a meal, kindly inform us at least 3 days in advance. You may either send the food directly to the Home or we can arrange to collect it from you.
• For sponsorship of meals during the month of Ramadan (fasting month), please inform us at least 7 days in advance.
Groceries
Sugar, condensed milk, Milo, tea powder, cereal, bread spreads, UHT milk, mineral water, syrup and packet drinks – these items are consumed by residents daily for breakfast and supper on weekends. Some of these items are also packed and given to the families of the residents when they go on their weekend home leave.
Fruits
Uncut fruit is served to the residents after meals.
We welcome fruits like apples, oranges, bananas, watermelons, etc.
Toiletries
Bottled shampoos and body foam, toothpastes, toothbrushes – each week, the residents use 14 litres of body foam and 2 litres of shampoo. These serve the needs of some 40 residents.
Other Sponsorship Opportunities
Inspiring Hope,
Transforming Lives.
since 1989
About Us
Media
Make A Difference
Contact Us
Address: 101 Pasir Ris Road
Singapore 519154   We have moved! &nbsp
Tel: 6344 7551
Email: [email protected]
UEN S89CC0701L ● Gazetted under the Children and Young Persons Act Cap 38 ● An approved Institution of a Public Character (IPC)